For several years, I've wanted to visit New England in the fall - to see in person those wonderful hues of orange, rust, red and yellow which grace the covers of travel magazines towards the end of summertime. Living in Arkansas for 3 years intensified this desire, as there were enough of the right types of trees there to get a short show of color every October, as well. So, this July I decided to just do it. To buy plane tickets and take a driving tour of New England. I decided to take Ivy with me, in the hopes that she is getting old enough to vaguely remember doing this kind of thing (with gaps in her memory being filled in by lots of photographs, of course). A few weeks later, I asked Mom to come along, so that we could make it a 3-generation trip and future set of memories. She's wanted to go as much as I have, so the answer was a definite yes. We got logistics settled, and flew into and out of Manchester, New Hampshire from October 5 - 11th.
First stop - Maine!
I was determined to hit all the states in the upper right corner of the map (thus leaving only lonely North Dakota on my list of states to go to), and even though it was "out of the way" to the hotel of our first night, we hung a left out of Manchester, and headed towards Portland, Maine. Along the way, we got a little turned around, and there were no signs announcing that we'd crossed from New Hampshire into Maine, and so we didn't go as far up the coast as planned, and instead landed at Kennebunk. From there, we headed south (it was about 5:30 pm, and beginning to get dark), but didn't get any further than Wells, Maine before our stomachs told us it was time to eat NOW. With cellphones low on power, I told Mom to look for a diner of some kind, figuring there'd be outlets along the walls where we could charge up while eating. Sure enough, Mom spotted a place on the seaside of the road, and we pulled in. I noticed an "As seen on Food Network" sign hanging on the wall outside, and thought this could be a lovely surprise. Sure enough it was! The aptly-named Maine Diner is apparently, very highly-regarded, despite having a rather plain look to it. This being New England, I determined to get a lobster roll. Mom spotted "lobster pie" on the menu, and got that. Wow, good stuff! Now I know what lobster is SUPPOSED to be like. YUM! With our bellies filled and phones recharged, we continued on south into Massachusetts and our hotel south of Boston.
Day Two: Boston
On Thursday, we woke up and tromped around Boston a little bit, including stops at the Bunker Hill Monument and the USS Constitution, and a couple circles around the Boston Commons. Our brief partial-day tour of the city convinced me that a return trip and at least 3 days was really needed to see more of what we wanted to see. While in town, we also met up with a friend of mine named Mary whom I've known online for awhile, through a bulletin board for expectant mothers at iVillage.com. Her son, like Ivy, was originally supposed to be an August baby, but he arrived on the scene early as well. This was out first time meeting in person, even though we'd been "talking" for about 4 years already. Oddly enough, I found out that Mary's father in law owns the Maine Diner -- she commented on that after I posted a photo on Facebook, of Ivy and I under the awning outside the restaurant the night before. What a small world! From Boston, we pointed the car south and headed for Hyannis, on Cape Cod. Ivy, for the record, was doing great, especially for a 3-year-old sitting in a car for hours on end. The portable DVD player I bought before we left proved to be a great help, but she was also very good with looking out the window and napping, or singing to her dolls and otherwise keeping herself occupied while the adults gawked at the scenery whizzing past them on the freeway. We arrived after sunset, so couldn't really see much that evening, though one difference jumped out at me from other trips to other coasts. You can't tell there's a major body of water nearby until you are right there on the beach. It's weird, because thick evergreens block any views from the major road through the Cape, and then there are densely-populated (or "Thickly Settled" as the signs around town said) areas between the trees and the water. Unlike going to Galveston where trees thin out and you can smell the warm Gulf, or California, where it tapers down towards the sea and you can see things miles away (minus smog, of course). That just struck me as a little odd. So, we were hungry, and wanted to get all the way out to Provincetown, but that wouldn't fit in in the morning. We unloaded our stuff, hopped back in the car, and drove out to the tip of the Cape to have dinner at
Fanizzi's
, which was wonderful. It's right on the bay, and part of the restaurant is actually out over the water on stilts. It was about 45° when we arrived, so it finally "felt" like it was supposed to. Around 10:30, we headed back, making the 45-minute drive back to the hotel room, and we all crashed pretty hard.
Day Three: Cape Cod and the southern coastline
We woke up the next morning and finally got to see what a charming town Hyannis is. Lots of little shops and a lot more activity during the day than at night. We ate breakfast at a tasty place where everything was fresh and local. It would have been nice to have another day here as well, but this was a "sampler platter" of a trip, so we were unable to linger long. Mom and I both wanted to see a lighthouse on the Cape, so I did a little quick research and found one on the Atlantic side, halfway between Hyannis and Provincetown: the famous
Nauset Lighthouse
, which can be found on bags of
Cape Code Potato Chips
. This was the first time we actually saw the Atlantic on this trip, and let me say it is a totally different experience from Galveston. There is no fishy/shrimpy smell, and the water is cold. The sands are softer, nearly white and don't stick to you. There aren't dunes, but rather cliffs of sand (which are not easy to scale back up) and there weren't any oil rigs dotting the skyline. Pretty darned nice! Oh, and the lighthouse is awfully impressive, too!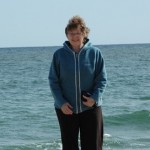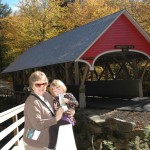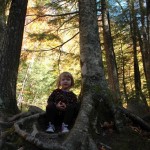 Share on Facebook